YOUR COMPLETE PROPHYLAXIS SOLUTION
The gentle AIRFLOW® & PERIOFLOW® treatment provides a fast and pleasant biofilm removal, eliminating stains and partially-mineralized deposits in both sub and supra-gingival areas. Together with the PIEZON® NO PAIN technology and its dynamic power response, the AIRFLOW® Master Piezon is able to provide a minimally- invasive treatment for calculus & mineralized deposits – all in one device.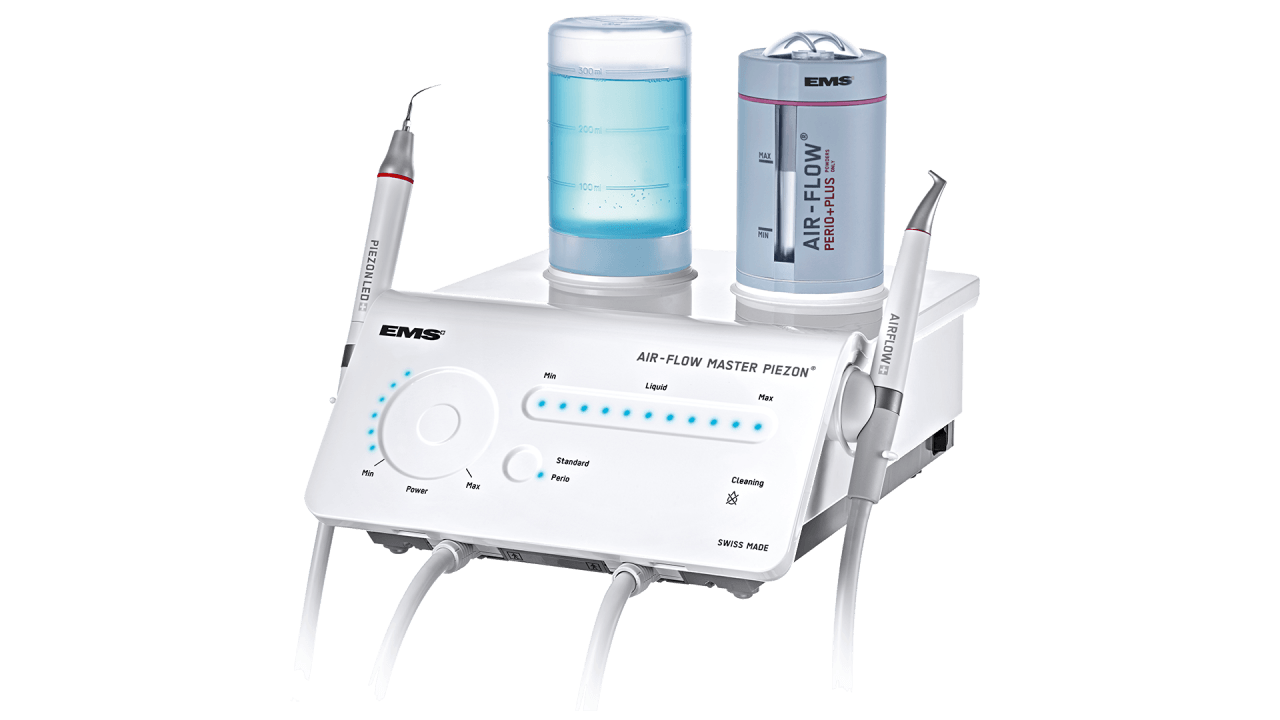 THREE TECHNOLOGIES, ONE UNIT
Multi-functional & flexible: The AIRFLOW® Master Piezon combines the three Original AIRFLOW®, PERIOFLOW® and PIEZON® technologies for a complete Guided Biofilm Therapy (GBT). Thanks to its adjustable power & irrigation system and its multi-functional pedal, the AIRFLOW® Master Piezon provides an intelligent and interactive unit for predictable clinical outcomes.The unit also has a built-in purge system that cleans and flushes fluid lines for greater oral hygiene together with an integrated heating technology that keeps the water temperature at 37°C.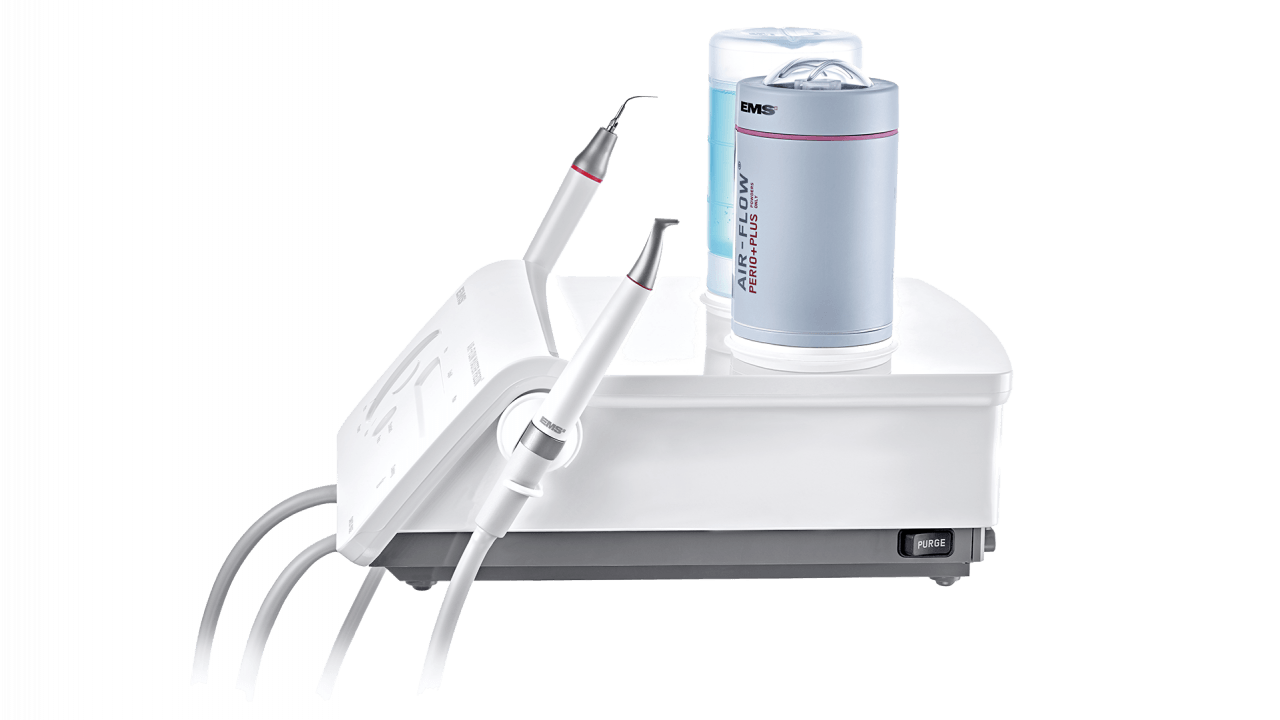 MORE FEATURES, MORE COMFORT
The Original AIRFLOW® treatment is pleasant for both dental professionals and patients, being actually faster and more efficient than hand instrumentation and rubber cups so your patients can enjoy a quiet and stress-free treatment.*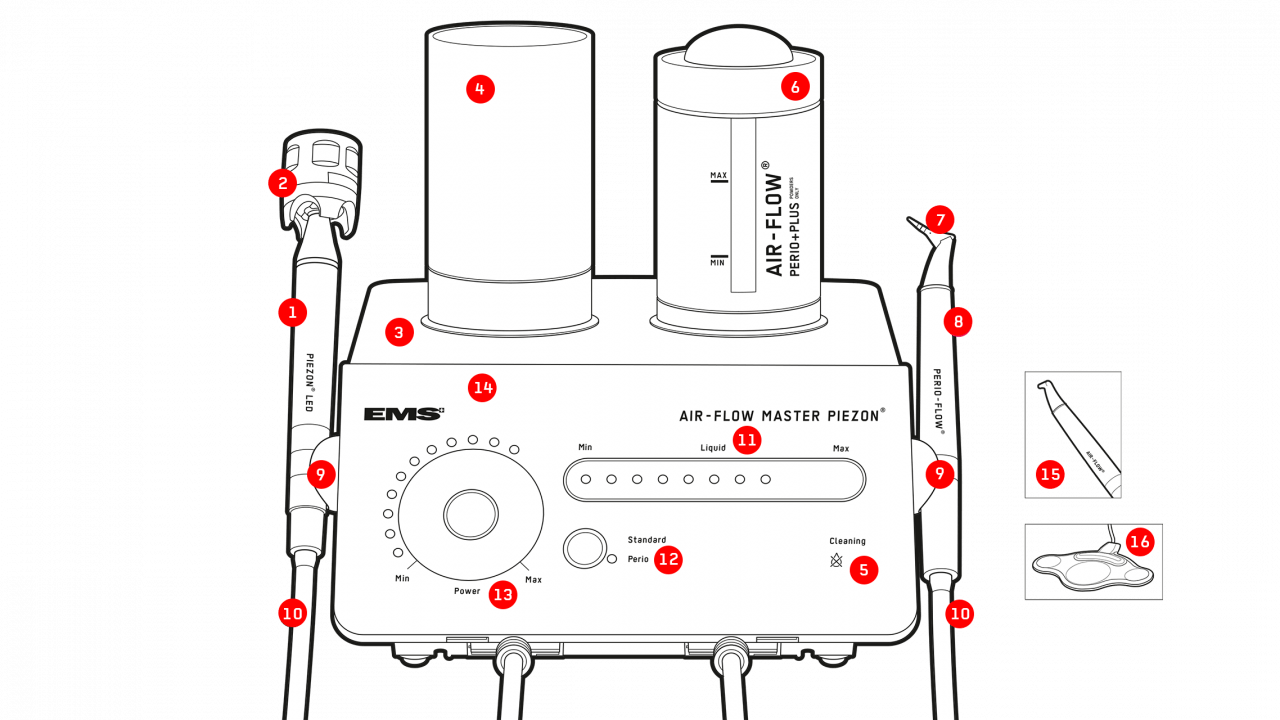 PRODUCT FEATURES:
ORIGINAL PIEZON® HANDPIECE WITH LED >Circular light emission for maximum visibility >Lightweight and ergonomic >Sterilizable up to 135º C
EMS SWISS INSTRUMENTS >Each with CombiTorque® for steady handling >Broad scope of application
PIEZON® NO PAIN TECHNOLOGY >Optimum instrument movements >Intelligent feedback control >Precise treatment results >Utmost patient comfort
LIQUID CONTAINER >Volume 350 ml or 500 ml >Easy to refill
DRY WORK CONTROL LED >Illuminates when used without liquid
DIFFERENT CHAMBERS FOR AIR-FLOW® POWDERS >Large capacity for many treatments >See-through and illuminated to visualize refill >Uniform powder flow, no clogging >Easy to remove, clean and refill
PERIO-FLOW® NOZZLE >Single-use nozzle, easy to install >3 nozzle outlets for air-powder mixture, horizontal >1 nozzle outlet for water, vertical
PERIO-FLOW® HANDPIECE >Subgingival use, down to deep periodontal pockets
HANDPIECE HOLDER >Magnetic, removable
HOSE >Removable from unit and handpiece
LIQUID >Easy control of flow amount
WORKING MODES "STANDARD" AND "PERIO" >Piezon® and AIR-FLOW® Methods – easy switching between the working modes (manual) >AIR-FLOW® Perio Method – switches automatically to Perio when using the powder chamber PERIO+PLUS
POWER >LED settings in 17 increments >Easy to set as clinically required
TOUCH PANEL >Fast and precise settings >Easy to clean, hygienic
AIR-FLOW® HANDPIECE >Supragingival use, also in subgingival border area >Standard 120º angle
FOOT CONTROL >4 functions for both methods >Includes power boos
CLEANING MODE "PURGE" >Button on the side of the unit >Cleans all hoses individually (AIR-FLOW® and / or Piezon®)
DOWNLOADS
AIR-FLOW MASTER PIEZON®
AIR-FLOW MASTER PIEZON® Operation Instructions(8.32 MB)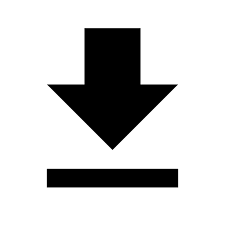 AIR-FLOW® Prophylaxis Systems Operation Instructions(3.95 MB)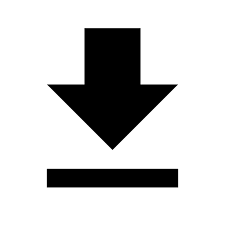 PERIO-FLOW® System Operation Instructions(4.45 MB)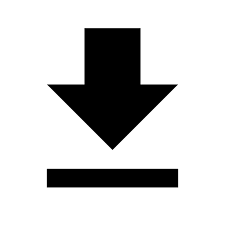 Reprocessing Instructions Cleaning, Disinfection and Sterilizing(2.52 MB)