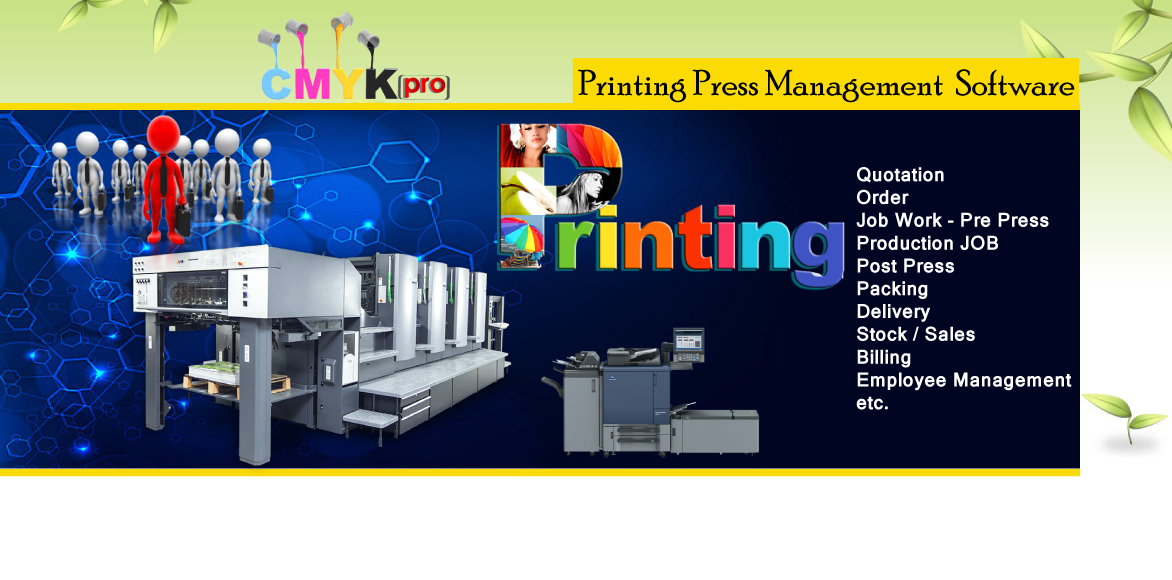 Printing Press Management Software
CMYK Pro - is a best printing press production management software . It makes simple and easy Management in all Sector like Quotations, Orders, Job Cards, Invoice Bill, Dispatch and production control every movement.
Enterprise-Level Functionality:
With features like SMS , Accounts ,Stock , Sales The visual proximity, intuitive design and friendly user operation ,increase efficiency and promote customer satisfaction.
It's web based software for entire printing industries from beginning to end process. CMYK Pro - Create and manage customer estimates ,with automatic calculation. Estimate includes - Exact paper cost, Job cost ,Machine cost, Out source cost ,etc.
Each quotation function to next level.........with serial procedure,
Customer management -Payment , Dispatch , Job Details .
Production Management - Quotation, Job booking, Job Card , Prepress ,Plate ,Printing Process, Finishing Process
Employee management - Attendance ,Salary Setup,Salary Process , Contract
FEATURES
Invoice
Quotation
Job Booking
Company Job
Job Card
Ore Press
Printing Process
Post Print Process
Finishing Process
Quality Control
Packing
Dispatch Section
Paper Request
Purchase Order
Purchase Entry
Paper Stock
Paper Summary
Paper TD Job Work
Today Activities
All Schedule
Contacts
Component Cost Master
Total Activity
Cost Settlement
Machinary
Supplier
Transport
Employee
User Rights
Attendance
Salary Setup Contact
Salary Master
Salary Process
Salary Arrear
Advance Ledger
Attendance Report
Yearly Master Report
Holiday Setup